Publications - Economic Focus
The Publications Unit at the Chamber produces ongoing publications: the Arab-British Business, the Arab-British Trade Directory and Economic Focus. Our publications highlight the dynamic developments occurring around the UK and the Arab world, which make it such a challenging and rewarding place to do business.
Choice of content is guided by the Chamber's founding ethic embodied in the motto, 'Friendship through Trade', a sentiment that remains as relevant today as when the Chamber was established more than 30 years ago.
Please click thumbnails below for our latest bulletin e-books
Published by : Benham Publishing Limited, Aintree Building, Aintree Way, Aintree Business Park, Liverpool L9 5AQ
Tel: 07801 788880 – Email: karen@benhampublishing.com – Web: www.benhampublishing.com
Economic Focus 2022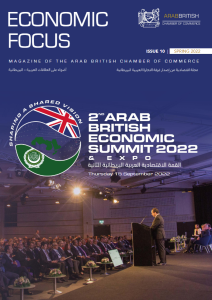 Economic Focus 2021
Economic Focus 2020
BECOME AN ABCC MEMBER AND GET MORE THAN 50% DISCOUNT ON OUR KEY TRADE SERVICES
ABCC membership provides exclusive networking opportunities such as unlimited complimentary access to most of our high-end events, speaking opportunities, media exposure and various marketing options through our website and publications. Exporters will also benefit from more than 50% reductions in certification fees, s discounts on international trade training courses, notary, and translation services, plus discounts on hiring our prime location venue, as well as access to reliable advice on doing business with the Arab world.
ABCC Daily Newsletter
Sign up to the ABCC Newsletter and get the latest business news from the Arab world.